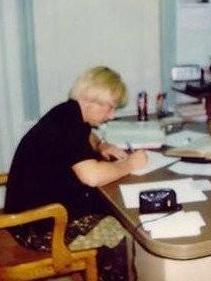 Travel, Teamwork, and mtDNA Test Results add up to Emile Broome's Amerindian Acadian Ancestry
...by Marie Rundquist with Emile Broome, Jr.

When Emile Broome decided to have his mitochondrial DNA (mtDNA) tested with the Amerindian Ancestry out of Acadia Family Tree DNA project, he was nearing the end of his ten-year quest for information about his family – a search that focused primarily on the maternal ancestry of his mother, Marie Bertha Dube of the town of Campbellton, in the Province of New Brunswick, Canada.

Emile recalls that in 1999, the year he began searching for his mother's family heritage, tracing a genealogy line was a hands-on affair; for at the time, the Internet was not a viable source of ancestry information. Following several leads, most offered by professional genealogist Peggy Willett, who had specific expertise in Gaspe family histories, Emile drove from his New Hampshire home to his old family haunts in French Canada, traveling from parish to parish, to discover the records that would yield information about his mother's birthplace, as well as lead him to other family members . His cousin Manon from British Columbia, whom Emile met while searching for the same common ancestor, was particularly helpful to him in his early research, and over the course of two years, they traveled together through New Brunswick, Quebec, and the Gaspe Region, visiting the reserves of Emile's boyhood, knocking on parish doors, searching the parish registries and asking to see the vaults.   

Manon's expert communication skills came into play throughout their travels in Quebec, as translator, journalist, and genealogist and they worked together as a team. While Emile planned their itinerary and travel routes through Gaspe and the reserves and located parish priests to help them in their research, Manon painstakingly transcribed (and translated) hand-written registry records and recorded conversations with the parish priests (all in French). In addition to meticulous record keeping, Manon maintained a running journal of the place names, dates, and family member information, compiling birth certificates and documenting their trips together on film. Between trips to Canada, Emile telephoned and emailed family members and acquaintances, seeking answers to his questions – with hit-or-miss results.

Emile had long questioned the circumstances surrounding his mother's birth. Emile's mother had told him long ago that she believed her records had been lost in a fire; other family members were of the same opinion; but Emile was steadfast in his dedication to his research, and believed that if he continued to dig through the records, someday, he would locate a vital piece of information that would link his mother with his family's past, and so he persevered in his quest. Although Emile's mother insisted she was born in Campbellton, in the Province of New Brunswick, Emile believed that his mother was actually born in the Quebec Province, across the river from Campbellton, around October, 1910, in the parish of St. Alexis de Matapedia. (Cont'd)

Emile Broome, Sr. and Marie Bertha Dube, 1934
Manon Transcribes Registry Entries
(Cont'd)...With no other leads forthcoming, following his instincts, Emile visited his mother's family home in Quebec. There, with Manon's assistance, Emile was able to locate a Quebec census record listing his mother, and her family, dating back to 1911, taken one year after her birth, and completed after a fire destroyed all of the major family records of the Campbellton, New Brunswick parish. Emile felt that the breakthrough he had prayed for was in his hands – and the copy of the hard-won census record became the cornerstone of Emile's subsequent research.

The obstacles Emile surmounted in acquiring his mother's census information were only a preamble to the trials he would face as generation by generation, grandmother by grandmother, he would trace his maternal line ancestry. Working through his new-found records, verifying each ancestor, place name, and recorded dates, Emile began to develop a family network that included hundreds of members and Canada's most prominent French-Canadian surnames. Grandmother by grandmother, his mother's family line began to emerge, one that was firmly rooted in the old Acadian stronghold of Prince Edward Island, the birthplace of grandmother Victoire Doiron, born 1802 in Rustico, Queens County. And there, in early 2009, his search stopped in its tracks, at a brick wall that he could not topple.

At about this time, Emile arrived at the Amerindian Ancestry out of Acadia Family Tree DNA Project site and read about the various tests that he could take that might help him fill in the gaps in his family tree. Encouraged, he purchased Y DNA and mtDNA tests and shared his family tree information with other project members.

While Emile is of Native American heritage, he had always heard from his family that his mother's people came from France, and although it is common in Gaspe for family to have Native American and French ancestry, he had often looked for links back to France when he researched his mother's genealogy. His point of view, and focus of his genealogy research, would change when he received his test results from Family Tree DNA, and on May 27, of 2009, he announced his Haplogroup A result to Amerindian Ancestry out of Acadia Family Tree DNA project members, and referring to his earliest ancestor, Victoire Doiron, born in PEI, asked the group for help breaking through his genealogy brick wall. 

Here is where teamwork once again entered the picture: After reading through Emile's family tree information, project member Tom McMahon worked quickly through the records, combining the data brought forward by Emile in his study with information he had cross-referenced among several genealogy websites. On May 27, 2009, within hours of Emile's first announcement of his results, Tom replied to Emile's announcement, providing a maternal ancestry line that linked Emile's earliest ancestor, Victoire Doiron, to Marie-Christine Aubois, an Amerindian woman of 17th century Port Royal, Nova Scotia, thus closing the gap. 

Emile was elated -- that he should find his maternal ancestry led to Marie-Christine Aubois of Acadia on the same day he announced his mtDNA test results was nothing short of spectacular, and he experienced a similar feeling of closure that he felt when he located his mother's census record. Despite his excitement, Emile had to put his maternal-line research on the back burner temporarily, as coincidentally, he was, at the time, also researching his Native American paternal line ancestry. In additional to his haplogroup A test results, Emile also received a C3b Y DNA test result from Family Tree DNA, which confirmed a Native American ancestry for his Broome surname, and he was further investigating his father's family records to resolve other questions. Emile had also decided to upgrade to the the full sequence mitochondrial DNA test, as he was interested in the exact matches that could provide other leads to his earliest ancestry.

Tom did not forget Emile's original announcement of his haplogroup A mtDNA test result, and his earlier post of six months prior, and in January of 2010, and with Emile's permission, he re-published Emile's maternal line ancestry before the project, once again connecting the dots between Victoire Doiron of 19th century Prince Edward Island and Marie-Christine Aubois of 17th century Nova Scotia. And now, with teamwork, research, and a haplogroup A2i result [1] confirming his Amerindian ancestry, Emile provides for use and comparison by his relations, a full record of his maternal line, compiled from his and Tom McMahon's earlier collaboration.

Marie-Christine Aubois + Jean Roy
Marie-Anne Roy + Jean Clemenceau
Marie-Anne Clemenceau + Nicolas Lavigne
Marguerite Lavigne + Joseph Poirier
Scholastique Poirier + Jean Charles Doiron
Victoire Doiron + Firmin Blaquiere
Barbe Blaquiere + Amand Pineau
Francoise Pineau + Jonas Gallant
Marie-Anne Gallant + Alexandre Dube
Marie-Bertha Dube + Emile Broome, Sr.Emile Broome, Jr.

Copyright 2013 Marie Rundquist and Emile Broome

[1.] The haplogroup subtype discovered for this participant has been updated from "A2i" to the "A2-C64T" and then (in 2017) to the "A2" subclade.