Patricia Sánchez Rau
The Story of don Juan de Oñate and de la Cruz DNA:  Genetic Genealogist breaks through Adobe Walls, ties Ancestry to New Mexico's First Families
...by Patricia Sánchez Rau with Marie Rundquist

The traditional story of "Early America" unfolds as Europeans arrive by ship at Plymouth Rock and Jamestown at the start of the seventeenth century.  The story continues, in countless textbooks, with the emergence of the thirteen English colonies followed by the American Revolution, and draws to a close as Lewis and Clark set off to explore lands west of the Mississippi in 1804.

The more recent, "American Story" is one of "Coming to America," with crossings – of borders and oceans, and the first Federal Immigration Inspection Station: Ellis Island.
don Juan de Oñate and an "American Story" out of the American Southwest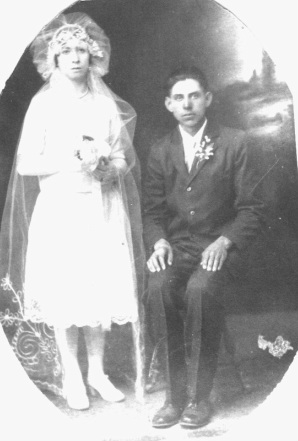 Patricia Sánchez Rau's American story departs wildly from traditional themes, for her family did not come to the United States as immigrants through Ellis Island or anywhere along the east coast. By contrast, Patricia's ancestors came from Spain, Portugal, Greece, North Africa, and other parts of Europe to Mexico. In 1598, years before the Pilgrims arrived at Plymouth Rock, they were among the New World's first pioneers who assembled on the banks of the San Pedro River under the dogged leadership of don Juan de Oñate, to embark upon their epic journey to New Mexico. 

Born in the New World, in Zacatecas, to Cristóbal de Oñate, a nobleman of Basque lineage, and his wife, Dona Catalina de Salazar de Cadena of Spain, the "American," don Juan de Oñate, had won the royal commission of Spain to colonize New Mexico in 1595 – and, to his dismay, was forced to fight his friends and enemies to defend his prize as well as pay for the entire expedition![i] An intriguing and complex historical figure, the enigmatic don Juan de Oñate escaped the notice of America's mainstream historians, and while his name is mentioned in the first pages of Fray Angélico Chávez' Origins of New Mexico Families, in 2005, his role in the Sánchez family history remained unknown.

In The Last Conquistador, historian Marc Simmons paints a narrative mural of don Juan de Oñate's rugged caravan as it lumbered on to New Mexico, sloshing through rivers and kicking up dust.  In the lead were a cadre of Catholic friars and lay-brothers sent by Spain to convert native peoples to Catholicism and the sword-bearing warriors, young and old, who rode under de Oñate's command, their faces shielded by beards, their heads by helmets, and their bodies (and horses) by armor plates.  Following Juan de Oñate and his soldiers, the robed missionaries, his coaches, livestock and oxcarts, was a column of wagons, filled with numerous (and sometimes nameless) wives and children and the mestizos, mulattos, Indians and slaves who ranked among the company's hired support.[ii]

The Native Americans and Europeans who followed Juan de Oñate to New Mexico numbered among New Mexico's "first families" and were, truly, the first pioneers to settle lands west of the Mississippi, their arrival in the American Southwest preceding Lewis and Clark's expedition by nearly two hundred years!  The New Mexico of the early sixteen hundreds was a borderlands region of the American Southwest that was not too far from Santa Fe - with the Pueblo Indians on one side of the river and the settlers on the other.  The proximity of the Pueblo Indians to Juan de Oñate's fledgling settlement was not conducive to peace and the histories of New Mexico's original families are punctuated by wars. Consequently, as Patricia discovered, family genealogies of this period are marked by hasty retreats and the loss of family records. Patricia offers the following explanation:
Conquest, exile, and re-conquest
"After arriving in New Mexico, in 1608 or so, the original settlers moved to what is now Santa Fe.  In the ensuing years, the settlement had many problems within the colony as well as with the native population.  Famine, dissatisfaction, hardships and other reasons, caused some of the original settlers to abandon their homes in about 1630.  The remaining settlers settled throughout New Mexico.[iii] "Then, in 1683, the Indians joined forces and revolted against the Spaniards, driving them out of New Mexico.[iv]  The Spanish colonists fled once again, this time to Guadalupe El Paso, to the area that is now known as Juarez, where they lived in exile for a twelve year period.  Denied permission by the government to return to Mexico, in 1693, led by don Diego de Vargas, the colonists "re-conquered" New Mexico where they stayed, and were joined by other settlers from Mexico City and Zacatecas.[v]

"During the century that followed, this part of the country remained isolated and apart from the United States and Spain, creating a pocket of individuals who knew little or nothing about the United States, its government, language, or politics – or the rest of the world.  Patricia recalls, "When I was in college, my Spanish professor told me that I spoke sixteenth-century Spanish.  New Mexico was isolated, even from Mexico, and with the caravans coming through the area only once every two to three years, we never learned about the soft "TH" sound that King Carlos had made everyone in Spain start using  (so he could hide his lisp).

"After the Louisiana Purchase in 1803, trappers began exploring the new territory.  In 1807 Zebulon Pike led the first Anglo-American expedition to New Mexico.  In 1821, the Santa Fe Trail was opened after Mexico declared its independence from Spain. The war with Mexico (1846-1848) was marked in New Mexico by the occupation of U.S. troops.  In 1848 after the Treaty of Guadalupe Hidalgo was signed, General Kearny issued a proclamation that made New Mexico part of the United States [vi] by right of conquest."
Fast-forward to the twentieth century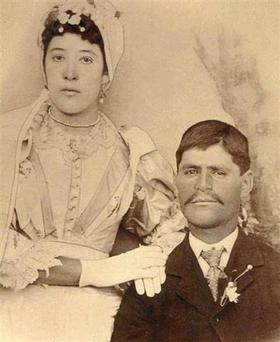 Patricia was the fourth child born to Juan Francisco Sánchez and Angelina Quintana in southern Colorado. Following a local custom, her parents had an arranged marriage and although her father saw her mother from a distance, her mother did not meet him until the day of the wedding in April, 1929.

Patricia's father, Juan Francisco Sánchez, was orphaned at an early age and was reared by his grandparents Julian Sánchez and María de la Cruz Roybal, both having been born in Colorado before it became a territory. Patricia's mother, Angelina Quintana was the sixth child of Apolonio Quintana and María Paula García, both from New Mexico, who moved to Conejos County, Colorado in 1899.

According to Patricia, her mother Angelina was proud of her heritage but curious about her little-known ancestry.  Angelina lamented to her children, "My grandparents were all related, but I don't know how!"  Laying the groundwork for her family study, Angelina obtained copies of the original baptism and marriage certificates for her parents and grandparents and purchased a book entitled Origins of New Mexico Families by Fray Angélico Chávez.  While her mother pressed on with her family research, Patricia had been living in Illinois, had no experience in genealogy, and her efforts to help her mother came to nothing.

Sadly, Angelina died a few years later, but fortunately, she had left her daughter with an envelope containing all of the records she had acquired during her research, along with a little notebook, where she had recorded, by hand, the information she learned during interviews. After her mother's death, Patricia attempted to follow in her mother's genealogy footsteps, but experienced little success until she retired and moved to Colorado.  Only then, in her new home in Colorado, where from certain vantage points, she could see the same Sangre de Cristo mountain range that passes through Northern New Mexico, did she find her real connection to her family's genealogy, and by continuing her mother's research, fulfill her mother's dream.

Adobe wall poses genealogy challenge
Genealogists often refer to "brick walls," where a family line will terminate; there are no further records to be found; and research of a family line cannot continue.  As her family ancestry was rooted in New Mexico, Patricia determined her genealogy "brick walls" were made from adobe -- a natural building material formed from mud, sand and straw used historically in the American Southwest. 

Patricia's first genealogy adobe wall was virtually impenetrable.  Finding no new leads, Patricia turned to DNA testing.  In 2005, after Patricia and a friend attended a DNA presentation sponsored by a local genealogical society, the same friend urged Patricia to have a mitochondrial (mtDNA) test.  While traditional genealogy remained silent on the matter of her mother's ancestry, Patricia wondered if an mtDNA test result, a genetic sequence, passed unchanged, from mother to mother, from generation to generation, might yield new answers? Would she be able to break through her genealogy adobe wall?

At first, Patricia questioned the science behind DNA testing and did not believe that the DNA test could help her, but after giving it some consideration, she ordered a low-resolution, hypervariable region 1 (HVR1), mtDNA test.

What happened next certainly alleviated Patricia's concerns about DNA testing.  After receiving her mtDNA test results, which were determined to be "Haplogroup A," a Native American haplogroup sequence, and releasing them to the DNA database, Patricia discovered she had twenty-five mtDNA matches!  Still skeptical, but resolved to gain full advantage of her investment, Patricia wrote to each of her mtDNA matches, asking for their help. In her letters, Patricia provided the name of her fourth great grandmother, María Rosa Sandoval, her marriage information to husband Jose Antonio Alari on November 5, 1782 in Santa Fe, and offered what little information she had gleaned from her research.

mtDNA test result leads to long-awaited breakthrough
Then, she waited.  Would anyone respond?  Patricia's efforts soon paid off, and to her surprise, three men replied to her query, and amazingly, all three had researched and documented their maternal-line paper trails!  To add to her amazement, each of her matches' maternal line ancestries led, from mother-to-mother, to the same, identical Sandoval family from Santa Fe!  As she studied the records, and the lists of marriages and births provided by her matches, it became apparent to Patricia that these Sandovals were, in fact, the parents of none other than her fourth great grandmother, María Rosa Sandoval, the youngest daughter of Antonio de Sandoval Martínez and Josefa Durán y Chávez!  By comparing her mtDNA test results with others, and finding matches who shared her family lines, Patricia was able to connect the dots for four generations of grandmothers, breaking through the genealogy adobe wall that had blocked her research for years!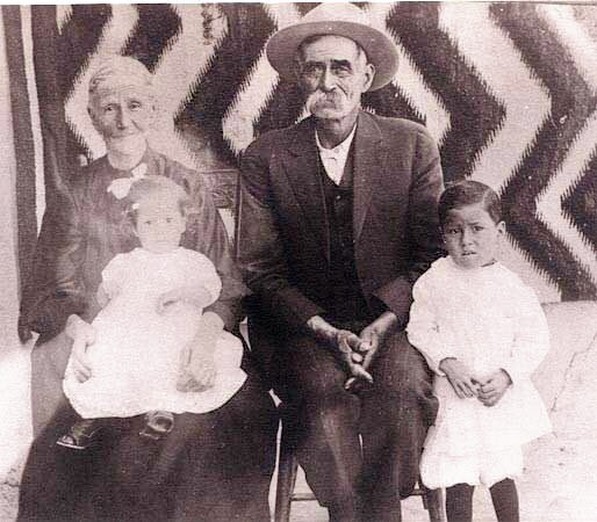 In 2012, Patricia received exciting news that extended her maternal line ancestry by several generations: new marriage investigations were donated to the New Mexico Genealogical Society from the early 1700 period.  One of these investigations, for Antonio de Sandoval Martínez and Josefa Durán y Chávez proved significant; these were the parents of her fourth great grandmother, María Rosa Sandoval – adding two generations to Patricia's maternal line ancestry![vii]

[CINN DM's Jun 8, 1728 Albuquerque Antonio de Sandoval Martínez signed age 20, son of Miguel de Sandoval Martínez and doña Luisa Gómez Robledo, vecinos (neighbors) from the villa de Santa Fe and originally from this kingdom with Josefa de Cháves 14, doncella (maiden) daughter of don Fernando Cháves and doña Juana Baca vecinos from Atrisco.  Witnesses: Juan Jose Lobato 21, Juan Lucero de Godoy 36, Juan Griego 45, and Juan Vallejo 38.  No Impediments found so I married and veiled on 29 Nov 1728 signed Fr. Andres Zevallos].

A second adobe wall threatens genealogy search
Next, the mother of Josefa Durán y Chávez (Rosa's mother) who was Juana Baca, wife of Fernando Durán y Cháves was revealed in Patricia's research; but Juana Baca introduced another adobe wall, the second to threaten Patricia's quest: Juana Baca's marriage investigation stated that she was daughter of unknown parents!

[New Mexico Roots Ltd. p. 305 April 26, 1713, Bernalillo, Francisco Durán y Cháves 20 plus, s/ Fernando Durán y Cháves and doña Luisa Hurtado from Atrisco, with doña Juana Baca, of unknown parentage - Couple dispensed 3rd degree consanguinity.  Wit/ Antonio de Silva Albuquerque notary, Nicolas Lucero 60, Francisco Candelaria 50, both of Albuquerque, Jose de Quintana, notary, Capt. Diego Montoya español, Diego Padilla, both of Albuquerque, Pair married May 15, 1713, with witnesses Antonio Ulibarrí and his wife María de Cháves Hurtado.[viii]]

Patricia had suspicions about the circumstances surrounding this marriage investigation which stated that the couple was related by 3rd degree consanguinity which meant that they were second cousins; but contradictory to this statement, there was the prior statement that Juana Baca was of unknown parents.  Patricia suspects that in reality, Juana Baca's parentage was known but that the young couple, intent on marriage, hid the stigma of Juana's illegitimacy by not telling the truth on their marriage investigation.

Disappointed, but not discouraged, Patricia proceeded with her quest, for, as a researcher of New Mexico family lines, she had a natural advantage: at one time New Mexico had less than 1000 families, so, as a result, most descendants will probably find at least one or more common ancestors.  Patricia reasoned that there had to be others who researched her same family lines.  Logic ruled the day when another family researcher reported that Patricia's Juana Baca was in fact the daughter of Juana Baca, a single mother who was called, "la vieja" (the elder).  La vieja had at least seven children; some used the Luna surname, others Baca. Researchers Margaret Buxton and José Antonio Esquibel identified this Juana Baca as the daughter of Cristóbal Baca and doña Ana Moreno de Lara, the second genealogy adobe wall gave way, and Patricia's path to the next generation opened once again.[ix]

As she followed her ancestors' path back in time, and a relative peace gave way to the uncertainties of war, Patricia discovered that historical records had to provide some of the ancestry information she sought.  In 1680 there was a revolt by the Pueblo Indians and it was during this time that the Spanish settlers were driven from New Mexico to Guadalupe El Paso (now Juarez, Mexico) where they lived in exile for twelve years. At this time, the sacramental records were left behind or destroyed.  The King of Spain via the Governor General in Mexico City denied the settlers' petitions to return to Mexico and plans were made for the re-conquest of New Mexico which took place in 1693.  The muster rolls and journals of don Diego de Vargas provided identification of the settlers who were returning as well as the new settlers, and the subsequent tool distribution lists also helped identify family groups.[iii]

As did her mother before her, Patricia consulted the Origins of New Mexico Families, which she found to be an extremely valuable resource for New Mexico family researchers.  Along with genealogy source material, the Origins of New Mexico Families offers researchers a precious view of their ancestors.  On the surface, the book appears to be a catalog of surnames, ordered alphabetically, with detailed appendices.  A second look finds realistic portrayals of ancestors' physical appearances, intermingled with the stories of their battles and beheadings, conquests, and re-conquests, marriages, births, adoptions, murders, intentional poisonings, and surname origins that add to the book's appeal. Of interest to family researchers, Fray Angélico lists the families who settled in New Mexico in the seventeenth and eighteenth centuries [viii] and gives information on the status of families before the Indian Revolt of 1683.  For example, Fray Angélico identifies (Captain) Cristóbal Baca, the husband of Ana Moreno de Lara, as the son-in-law of Diego Trujillo.  Diego Trujillo came with the soldier escort from Mexico City in 1641.  He listed his wife as Catalina Vásquez, the daughter of Diego Márquez and Bernardina Vásquez.[x]

As Patricia's research neared the early sixteen hundreds, Juan de Oñate role in her family history materialized, and her Spanish family lines became apparent: Diego Márquez, who had come with don Juan Oñate in 1600, as a single soldier from San Lucar de Barrameda, Spain, had married Bernardina Vásquez about 1621.  He was involved with the intrigue of his day and was beheaded, along with several others, after being tried and found guilty of being a major accomplice in the death of Governor Rosas, in 1643.  His widow Bernardina Vásquez was identified as being the daughter of Francisco Vásquez, another single soldier from Cartaya, Spain and an unknown woman; their children were also identified.

As captivating as her genealogy research had become, Patricia never took her eyes off of her mtDNA matches. Patricia, by now, had developed expertise as a New Mexico family / genetic genealogist and each time she was notified of a new match, she wrote to the individual and offered to help with his or her genealogy research.  Among the fifty people whose mtDNA results matched Bernadina's, there was bound to be someone who also descended through Patricia's same, maternal line! However, this was not the case, and although several of those Patricia helped did in fact have complete paper trails, to her chagrin, they were not direct descendants of Bernardina Vásquez.  A third adobe wall formed while this unsolved puzzle loomed over Patricia's head, casting a shadow on her late mother's dream of a completed ancestry – a dream that had become her own.

Maternal line ancestry resolved as third adobe wall crumbles
In her research, Patricia finds that "DNA testing may not help everyone with genealogy dead ends, but adding DNA findings to your research can reveal unknown family connections and ancestry, as well as provide substantial support for your genealogy paper trail." Pairing paper trail ancestries with her long list of mtDNA matches, Patricia consulted with Henrietta Martínez Christmas, a well-known, New Mexico family researcher.  Christmas examined all of the findings; through her analysis of the mtDNA and genealogy records, she reached the conclusion that all of Patricia's matches were connected to the Pérez de Bustillo family.

In 1598, family patriarch Juan Pérez de Bustillo, the son of Simon Pérez, and a Mexico City native, and his wife María de la Cruz (of unknown parentage) came to New Mexico with a family of two sons and seven daughters to accompany don Juan de Oñate on his expedition to Nuevo Mexico.  Some of the daughters were known by name and whom they married, so the ties to this particular family became evident.  In fact, Juan Pérez de Bustillo married all seven daughters to single soldiers who were all from the same region of Spain.  With this final breakthrough, the last adobe wall crumbled, and Patricia reached the end of her maternal line ancestry as it stands today.

Patricia notes in her research, "There were very few European women who came with the expedition, so as a result, many of the Spanish soldiers married Native Americans who were assimilated into the Spanish culture.  We spoke Spanish, had our own customs, our own foods, and from 1600 to 1820, we were part of the Spanish Empire and governed by the King of Spain."

Today, New Mexico's unique cultural identity is best expressed in its traditional foods. Patricia informs "We did not grow up eating tacos, enchiladas, tamales or other foods from Mexico. Our pinto beans and chili (both red and green) were cooked and flavored in a different manner.  We primarily ate flour tortillas as the Spanish grew wheat for that purpose. Corn tortillas came in much later." Patricia shares the traditional Sopapilla recipe her mother passed down to her (along with her mtDNA!):

Family Sopapilla Recipe
Ingredients:
4 cups flour
1 ½ tsp salt
2 tsp baking powder
2 TBS granulated sugar
3 TBS shortening 
1 package dry yeast
¼ cup warm water
1 ¼ cup scalded milk (cooled to room temperature)

Combine dry ingredients, cut in shortening.  Dissolve yeast lukewarm water.  Cool the scalded milk to room temperature; add both yeast, liquid and scalded milk to dry ingredients and work into the dough.  Knead dough and let it rest for 20 minutes.  Roll dough to about ¼ inch thickness and cut into squares or triangles.  Fry in melted shortening (cooking oil) (350 degrees) Drain on paper towels.  May be used as dessert by sprinkling with powdered sugar and serving with honey.  May be used in place of bread/tortillas. Note: The  recipe cuts in half nicely but use 1 package of dry yeast.

In September 2013, at the urging of her husband, Patricia completed the full mitochondrial sequence (FMS) test, extending her initial "Haplogroup A" results. To date Patricia has 180 Hypervariable Region 1 (HVR1), low-resolutions matches, 70 high-resolution matches for HVR1 and Hypervariable Region 2 (HVR2) and 25 Matches with HVR1, HVR2 and coding region (resulting from the Full Mitochondrial Sequence (FMS) test).

Patricia continues to receive correspondence from others whose ancestries are found in Mexico.  From the available records, it appears that one of the seven daughters of Juan Pérez de Bustillo and María de la Cruz may have returned to Mexico with her soldier husband, so these matches could still be from this family; however, more research is still needed to confirm this speculation.  Patricia gives permission to publish the following maternal line ancestry and invites those who share her ancestral lines to email leadville5@earthlink.net.

Patricia Sánchez Rau's Maternal Ancestral Line
First Generation:  Patricia Sánchez, daughter of Juan Francisco Sánchez & Angelina Quintana, married Rudolph Rau, October 7, 1961, in Milwaukee, Wisconsin.

Second Generation:  Angelina Quintana, daughter of Apolonio Quintana and María Paula García married Juan Francisco Sánchez, April 1, 1929, in Antonito, Colorado.[xi]

Third Generation:  María Paula García, daughter of Antonio Cosme García and María Guadalupe Sena married Apolonio Quintana on February 21, 1896, in Santa Cruz, New Mexico.[xii]

Fourth Generation:  María Guadalupe Sena, daughter of Jose Ramon Sena and María Manuela Ortiz married Antonio Cosme García on November 28, 1867, in Santa Fe, New Mexico.[xiii]

Fifth Generation:  María Manuela Ortiz, daughter of Juan Luís de Jesús Ortiz and María de la Cruz Alari married Jose Ramon Sena, February 2, 1842, in Santa Fe, New Mexico.[xi]

Sixth Generation:  María de la Cruz Alari, daughter of Jose Antonio Alari and María Rosa Sandoval married Juan Luis de Jesús Ortiz about 1810 in New Mexico.[xiv]

Seventh Generation:  María Rosa Sandoval, daughter of Antonio de Sandoval Martínez and Josefa Durán y Chávez married Jose Antonio Alari on November 5, 1782, in Santa Fe, New Mexico.[xi]

Eighth Generation:  Josefa Durán y Chávez, daughter of Francisco Xavier Durán y Cháves and Juana Baca, married Antonio de Sandoval Martínez on June 29, 1728, in Bernalillo, New Mexico.[v]

Ninth Generation:  Juana Baca, daughter of Juana Baca and father unknown, married Francisco Xavier Durán y Chávez on May 15, 1713, in Bernalillo, New Mexico.[vi]

Tenth Generation:  Juana Baca (the elder), daughter of Cristóbal Baca and Ana Moreno de Lara, did not marry.[vii]

Twelfth Generation:  Catalina Vásquez, daughter of Diego Márquez and Bernardina Vásquez married Diego Trujillo about 1634 in New Mexico.[viii]

Thirteenth Generation:  Bernardina Vásquez, daughter of  Francisco Vásquez and an unnamed Pérez de Bustillo, married Diego Márquez about 1621 in New Mexico.[viii]

Fourteenth Generation:  Unnamed Pérez de Bustillo, daughter of Juan Pérez de Bustillo and María de la Cruz married Francisco Vásquez about 1607 in New Mexico.  

Fifteenth Generation:  María de La Cruz, daughter of parents yet to be determined married Juan Pérez de Bustillo about 1580 in Mexico City, Mexico.[xv]

End Notes
i.    McGeagh, Robert, Ph.D. Colony in the Wilderness. New Mexico: Sunshine Press, 1990, pps. 27 – 29.
ii.    Simmons, Marc. The Last Conquistador: Juan De Oñate and the Settling of the Far Southwest. Oklahoma: University of  Oklahoma Press, 1991. pps. 93 – 98.
iii.    Kessel, John L.  Spain in the Southwest. Oklahoma: University of Oklahoma Press, 2002.
iv.    Silverberg, Robert. The Pueblo Revolt. Nebraska: University of Nebraska Press, 1970.
v.    Kessel, John L., Hendricks Rick, et al. The Journals of don Diego De Vargas – 6 volumes. New Mexico: University of New Mexico Press, 1998.
vi.    Weber, David J. The Spanish Frontier in North America, New Haven: Yale University, 1999.
vii.    Extracted by Patricia Sánchez Rau & Henrietta Martínez Christmas, "Santa Cruz Marriages 1826-1849 and Roots Limited Addendum" compiled and published by the New Mexico Genealogical Society, Albuquerque, New Mexico.
viii.    Fray Angélico Chávez. "New Mexico Roots Limited, A demographic perspective and geographic data found in the Diligencías Matrimoníales or Pre-nuptial Investigations 1676-1869", Archives of the Archdiocese of Santa Fe.
ix.    Buxton, Margaret. The Other Luna Family (18pp. + appendices and charts; copy available at the Albuquerque Public Library Special Collections/Genealogy Library). "Beyond Origins of New Mexico Families" – website of Jose Antonio Esquibel.
x.    Chávez, Fray Angélico. Origins of New Mexico Families – A genealogy of the Spanish Colonial Period – Revised Edition 1992, Museum of New Mexico Press, Santa Fe, New Mexico.
xi.    Our Lady of Guadalupe Marriages, Conejos County, Colorado, Church of Jesus Christ of Latter Day Saints, Family History Center, LDS Film 0002695.
xii.    Extracted and compiled by Patricia Sánchez Rau, "Santa Cruz Marriages 1850-1899", published by Hispanic Genealogical Resource Center, Albuquerque, New Mexico.
xiii.    Compiled by Margaret Leonard Windham & Evelyn Luján Baca, "New Mexico Marriages – Santa Fe, St. Francis Parish and the Military Chapel of Our Lady of the Light, La Castrense 1728-1857"- published by New Mexico Genealogical Society, Albuquerque, New Mexico.
xiv.    Will of Jose Antonio Alari – Twitchell #57, Spanish Archives of New Mexico, Santa Fe, New Mexico.
xv.    Snow, David H. New Mexico's First Colonists. Albuquerque: Hispanic Genealogical Resource Center, 1996.

Copyright 2014 held by Patricia Sánchez Rau and Marie Rundquist

Note: The article, mtDNA Topples Genealogist's "Adobe Walls," Ties Ancestry to a 16th-century Grandmothers and New Mexico's First Families, by Patricia Sanchez Rau with Marie Rundquist, may be found in The Searcher: A Publication of the Southern California Genealogical Society, Summer 2014, Volume 51, No. 3